---
-- SFSC 2016 Hotel and Transportation Information --
---
Our Hotel this year is TBA (new location this year but close to last year's location)


NOTE: There is also a link which allows for those who want to join the hotel's priority club (it is free to join their priority club). If you want a room without joining the club, please call reservations at the number listed below.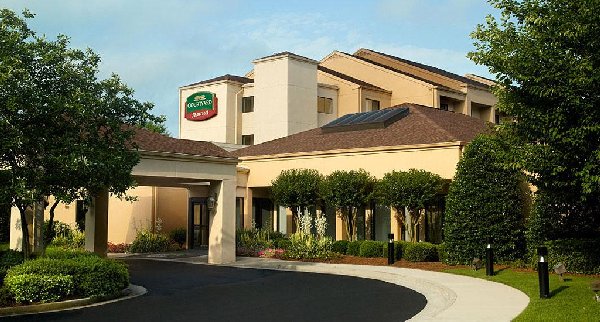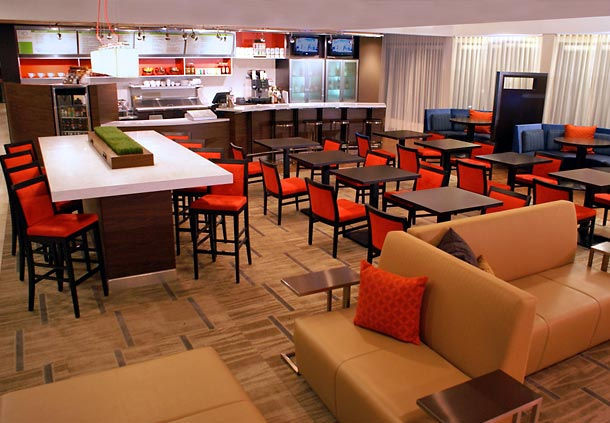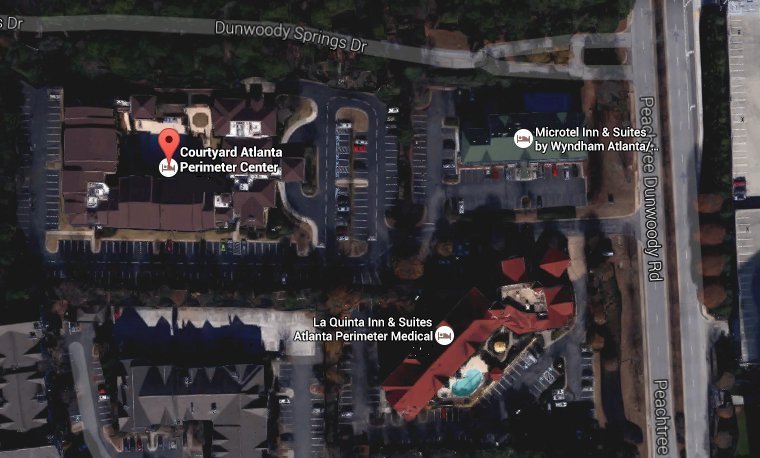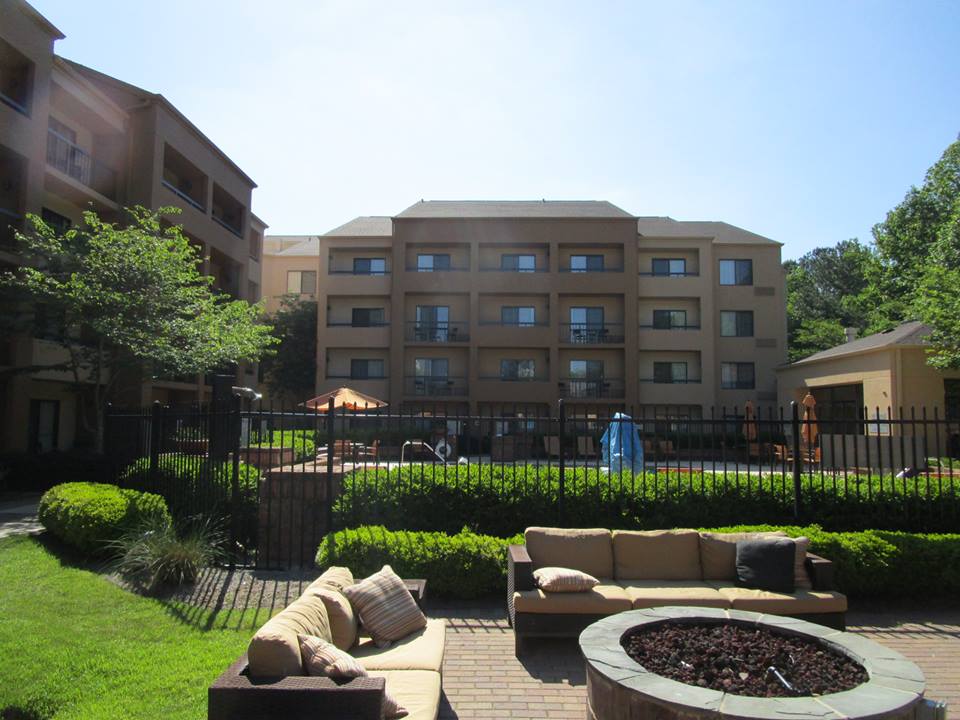 This hotel is an excellent place for a convention and at this great special sleeping room rate we expect the hotel to sell out very quickly.
This hotel also has great convention facilities which you are sure to enjoy.

.......
The highlight of their new lobby experience is The Bistro - Eat. Drink. Connect, where guests enjoy enhanced food and beverage offerings in the morning and dinner service with refreshing cocktail options. Stay fit in their Fitness Center and outdoor pool before grabbing a bite to eat at The Market, offering fresh sandwiches, snacks and beverages 24 hours a day.
The address and contact information for the Hotel is:
6250 Peachtree Dunwoody Rd
Atlanta, GA 30328
Front Desk: (770) 393-1000
Fax:
RESERVATIONS FOR -SFS Con Group- SLEEPING ROOM RATE: 1-800-321-2211 (at the Courtyard Atlanta Perimeter Center) (7am-11pm)
---
SLEEPING ROOM RATES:
- $79.00 (plus tax) - for standard double or king - single or double occupancy room per day. Be sure to specify which one you want. Please state that you are reserving your standard single or double room for the SFS CON GROUP event, and check that the room rate is $79.00 per night.
Exec / suite Rooms are $109.00 (plus tax) per day and are in limited supply and availabiliy, but you can request one, just contact us if you want one, so we can check availability and arrangements for that type of room, or, contact the sales office during business hours to inquire about it.
They also have adjoining hotel rooms, but also in limited supply, so if you want 2 of those, be sure to ask, and soon.
For purchase of hotel rooms, the hotel accepts all major credit cards to include Visa, Mastercard, Discover, Amex. The hotel also accepts cash but Not personal checks or money orders.

An important note about purchase with cash: you can only purchase with cash on the day that you want the room, not in advance, and there is a $50 security/service deposit as well as the base cost of the room.
OTHER IMPORTANT ROOM NOTES:
* If you call the hotel at the number listed above to get your room, it is very important that you mention SFS CON GROUP / SCI FI SUMMER CON to get the special low con sleeping room rate.
* Many patrons have club memberships of various types, that also give discounts on hotel sleeping rooms, such as AAA. If you use one of those deals for getting a sleeping room, that will be honored, but please also make sure to advise us that you have done so, so your stay will be accounted also to SFSC! YOUR GROUP RATE IS BETTER THAN THE DISCOUNT RATES OFFERED DURING THIS TIME. DISCOUNT RATES ARE OFFERED STANDARD RATES
* If you wish to purchase adjoining rooms, please advise the hotel reservations desk when you reserve your rooms, so that they can place you in the appropriate location of the con room block.
* High Speed Wireless Internet is included in your guest room rate in all guest rooms and public areas.
* If you call to reserve a room during the weekend or after normal business hours, you must call the national reservation line, as no local reservation rep is normally on duty during the weekend. The hotel front desk will re-direct you, so you can call the number listed above. And again, please mention that you want the room for SFS CON GROUP / SCI FI SUMMER CON, then give the date(s) that you want the room.
Rooms desired with balcony - If you want a room with a balcony (they have some, both standards and execs), please make that request when you reserve the room. It is not guaranteed, but the hotel will likely honor if at possible.
* Reservations can be cancelled up 24 hours prior to the convention, if something comes up that keeps you from attending.
* ROOM RESERVATION CUT-OFF DATE: 4 weeks prior to the convention, so you must reserve a room by mid-May. After that, room rates could increase as much as $20.00 per night, so it is definitely better to reserve early!
---
OTHER FEATURES: There is a free-use for patron business center, gym, and pool, for the convenience of patrons that have a hotel room during the show.
OTHER ITEMS: The hotel requests that no outside food (Wendy's, for example), be brought into the function rooms of the hotel.
---
Below are some directions and layout maps to the Marriott Courtyard perimeter center.
More detailed directions can be obtained from the hotel link toward the top of this page.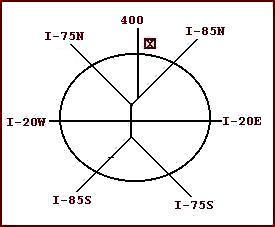 Google road map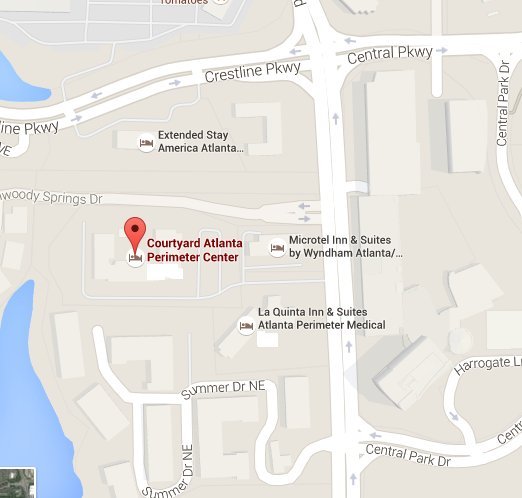 The map below shows the general layout of the convention area in the hotel (check back for updates!)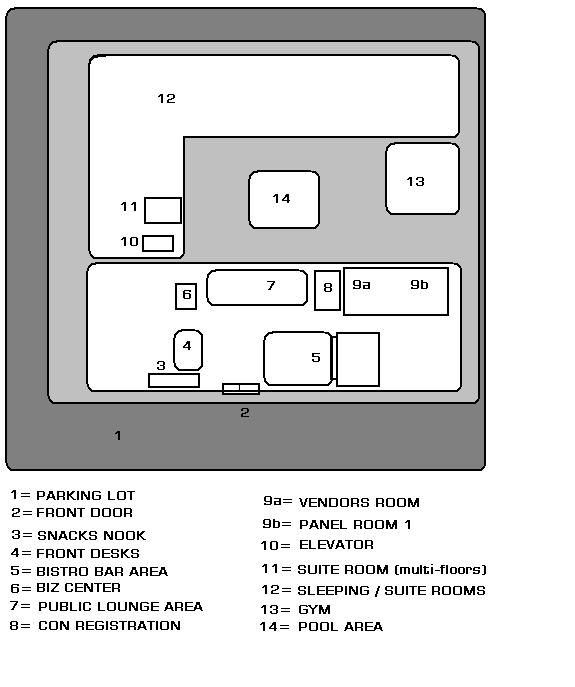 Hotel Convention Level
(Click on picture for larger view)
---
Transportation to the hotel
DRIVING
The Hotel Website provides customizable driving directions, or you can use Google maps here:
[ Google.com! Maps ]
Get driving directions to the hotel
Even though there is great parking at the hotel you might want to consider taking MARTA to and from the hotel. Also, the public transit connection into Cobb county / Marietta is , and the route info is on this page,
Shuttle Bus
The Hotel provides their own shuttle bus service which can take hotel patrons just about anywhere from and to the hotel within a 5 mile radius of the hotel.
Below is the link to the marta website, for marta bus connection info to, from, and near the hotel.

MARTA is The M etropolitan A tlanta R apid T ransit A uthority
AN IMPORTANT NOTE: The hotel gives free shuttle service to and from the DUNWOODY MARTA station (train station near Perimeter Mall). Just call and request shuttle pick up from the hotel at the above listed telephone number.
---
Flying in for the show?
Check out the hotel Official web Site so you can verify all airline arrivals and departures.
---
Map of immediate hotel area (within walking or short driving distance)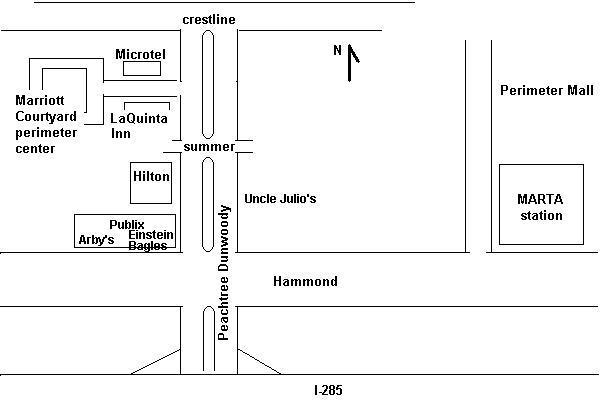 (Click on picture for larger view)
Shopping centers nearby are the Publix / RiteAid shopping center and Perimeter Mall complex right off of Hammond Rd. Arby's and Einstein bagels are at publix, Uncle Julio's, and there are many restaurants and other shops of interest in the immediate Perimeter Mall area.
HAVE QUESTIONS ABOUT THE HOTEL? PLEASE EMAIL THE DIRECTOR