SCI FI Summer Con THE MOVIE
[<<<<<<<<<<<<<<<<<<<<<<<<<<<<<<<<< UPDATE >>>>>>>>>>>>>>>>>>>>>>>>>>>>>]
SFSG2 "Get General Galla" MOVIE in planning (written in 2009, first part made in 2010, next part TBA)
Still looking for a few more good space mercs out there, as well as actors to play soldiers for one scene. Many scenes for the first part of the sequel have been shot. Many more to go.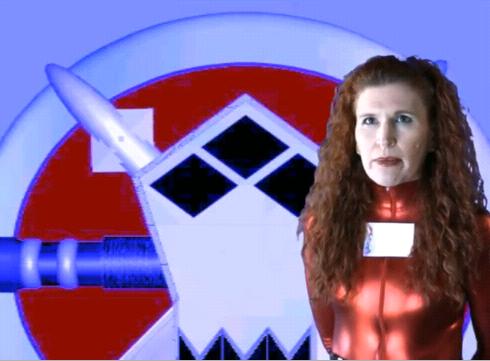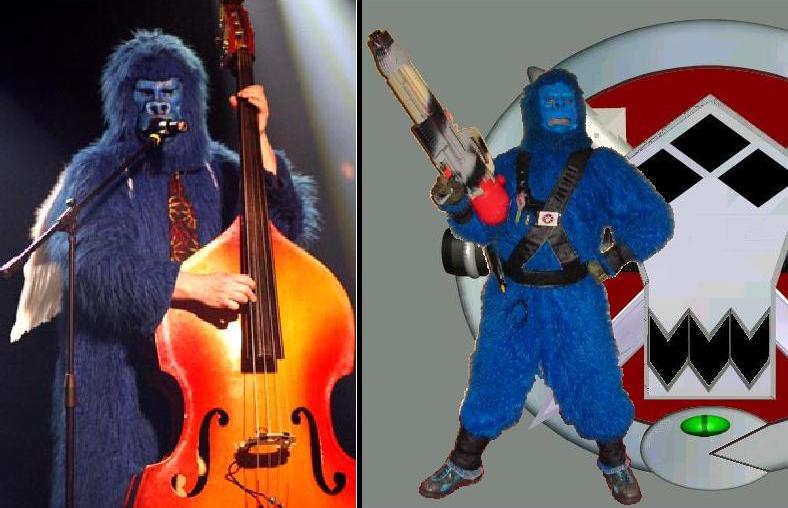 Sassparilla the singing gorilla, Evil Sass the space merc.
[<<<<<<<<<<<<<<<<<<<<<<<<<<<<<<<<<<<<<<<<<<<>>>>>>>>>>>>>>>>>>>>>>>>>>>>>>>>>>>>>>>]
SFSC "SCI FI SUMMER GIRL'S OFF DAY" MOVIE! (made in 2009)
'A heroine, a lizard, and a day off, gone horribly wrong', is the tag line for the new short scifi-action-comedy film that premiered at ScifiSummerCon2009!
The story is based on the first comic strip, produced last year, of the adventures (in this case a misadventure) of the convention's mascot, SciFiSummerGirl (or Sci, for short). Her shorted name has all the connotations that it can have, such as the greek letter PSI, psychological, tsai (the japanese ninja weapon), and so on. Her actual name is currently a secret name.
Her pet / sidekick is Amadeus the mutant Anole, a playful, impish, yet dangerous-when-he-needs-to-be lizard, who is skilled in his own right in battling the bad guys.

The background Story and Characters
The characters were conceived a few years ago, and put together over time. some info about that can still be read on the -whatsnew- page. They symbolize summer fun, scifi action, and scifi-retro style. The bad guys symbolize the rain that sometimes comes along and ruins the summer fun, but usually only for a short time.
You and click [ HERE ] to see a sample of the original comic strip.

The Location and Crew
The movie was shot this year in a park in marietta, ga, over just a couple of days. Big credit to Cobb Parks for their cooperation, as well as our director, Adrian Havens, for setting that up nicely! The weather on the shoot was a nice spring day, but was fraught with tree pollen.
We had a pretty fine cast and crew, less than 30 people, who showed up, including artists, movie crew types, actors, and even some wrestlers! plus, just a few good volunteers who stepped up and helped out, as needed.


Audio / Visual Goodies and Effects
The film contains some special effects, including space ships, air cars, plasma guns, powered frisbees, future cityscapes, and other goodies designed by our movie team!
If this story and movie are well received, we may do another adventure of our heroes on film.


Residuals and possible merchandise
Meantime, there are already other cool ideas for items spawned by the film. Click [ HERE ] to see one of the possible t-shirt logo ideas that came from the film.

The 'deluxe' DVD of "SciFi Summer Girl's Off Day" is now available for sale. Please contact us in email for more info on purchase. As described below, it has the short film plus lots of extra fun features.

If you have any questions or interest, please contact us thru the link at the bottom of this page.

[<<<<<<<<<<<<<<<<<<<<<<<<<<<<<<<<<<<<<<<<<<<>>>>>>>>>>>>>>>>>>>>>>>>>>>>>>>>>>>>>>>]

CAST AND CREW CREDITS ARE BELOW

CAST:
Sfsgirl = Heather Davis
Amadeus = S. Fox
Alien merc leader = Kay Freeman
Alien merc team member 1 = Darren Stephens
Alien merc team member 2 = Jesse Coulter
Alien merc team member 3 = Sassparilla, the Singin Gorilla
Alien merc team member 4 = Jess Wade
Alien merc team member 5 = Steven Flerl
Frizbee player 1 = Tony Castellucci
Frizbee player 2 = Chris Wiese
Frizbee player 3 = Carol Sevick
Nerfgun player 1 = Jeff List
Nerfgun player 2 = Chris Gee
Nerfgun player 3 = Terry Dean Christian
Nerfgun player 4 = Adrian Havens
Nerfgun player 5 = Mark Rudge
Boffer sword player 1 = Shane Williams
Boffer sword player 2 = Bennett Hepburn
SFCPD policeman 1 = Chris Jones
SFCPD policeman 2 = Adrian Havens
Pizza picnicker 1 = Eric Koske
Pizza picnicker 1 = Denise Adelman
Pizza picnicker 1 = S. Fox
Park bystander / victim 1 = Robert Dranzek
Park bystander / victim 2 = Sean Cunningham


===

CREW:
Producer = Chris Jones
Original Story = Chris Jones
Screen Play = Adrian Havens
Director = Adrian Havens
Director of Photography = Colin Birney
Casting = Chris Jones
1st A.D. = Eric Koske
1st Unit camera = Mark rudge, Drew sawyer
2nd unit supervisor = Robert Dranzek
2nd Unit camera = Denise Adelman, Tony Castellucci
2nd Unit director = Tony Castellucci
Sound = Allie Hindman, Jesse Coulter
Production design = Chris jones, Adrian Havens
Costume design = Chris jones, Adrian havens
Location scouting/coordination/Manager = Adrian Havens
Post production supervisor = Mark Rudge
Editing = Drew sawyer, Mark Rudge
Vfx = Mark Rudge, Tony Castellucci
Sfx = Colin Birney, Mark Rudge
Musical score = Jesse Coulter
Wardrobe = Mark Rudge, Chris Jones, Adrian Havens, Jesse Coulter
Props = Mark Rudge, Chris jones, Adrian havens,
Trailer editor = Jesse Coulter
Trailer editor supervisor = Chris Jones
Stunt Coordinator = Eric Koske
Script Supervisor = Brandon Ray


Catering = CiCi's Pizza

Special thanks to:
Cobb County Parks, Recreation, and Cultural Affairs Department,
Cobb County Services, Particularly Eddie Canon and Diane Collett


[<<<<<<<<<<<<<<<<<<<<<<<<<<<<<<<<<<<<<<<<<<<>>>>>>>>>>>>>>>>>>>>>>>>>>>>>>>>>>>>>>>]

SCI FI SUMMER GIRL'S OFF DAY VIDEO LINKS:

To the [ SCI FI SUMMER GIRL MOVIE PAGE ]

To the [ 1st trailer on youtube ]

or to the [ 1st trailer on myspace ],

or to the [ 2d trailer on myspace ]

or to the [ final trailer version on IMDB. ]

also, to an [ improv comedy sketch shot immediately after the film shoot ], while still on location, with actor Tony Castelluci (aka Lance Mcgruder) for his intended Contourage series of sketches.

The full or 'deluxe' version of SciFi Summer Girl's Off Day movie has been produced and is now available! Features include blooper reel, bubbles scketch, production info, initial and final trailers.


[<<<<<<<<<<<<<<<<<<<<<<<<<<<<<<<<<<<<<<<<<<<>>>>>>>>>>>>>>>>>>>>>>>>>>>>>>>>>>>>>>>]

You can view some sample images / stills of the movie, below ..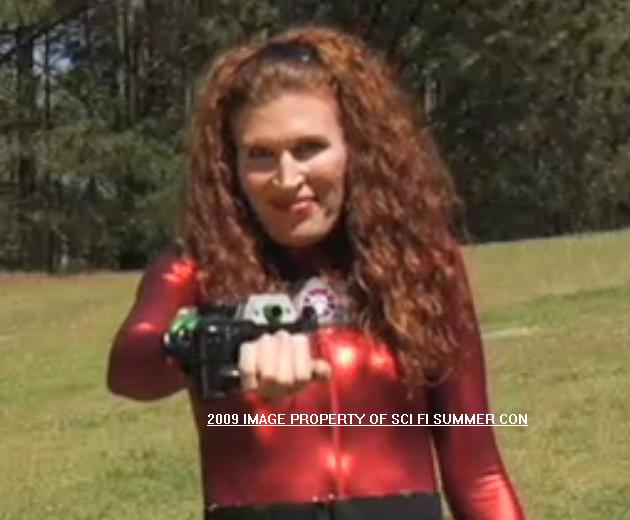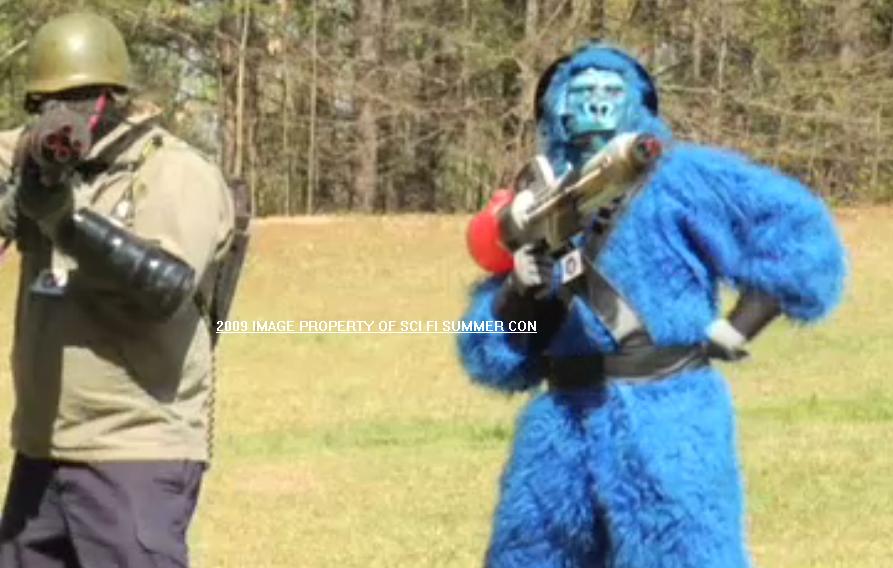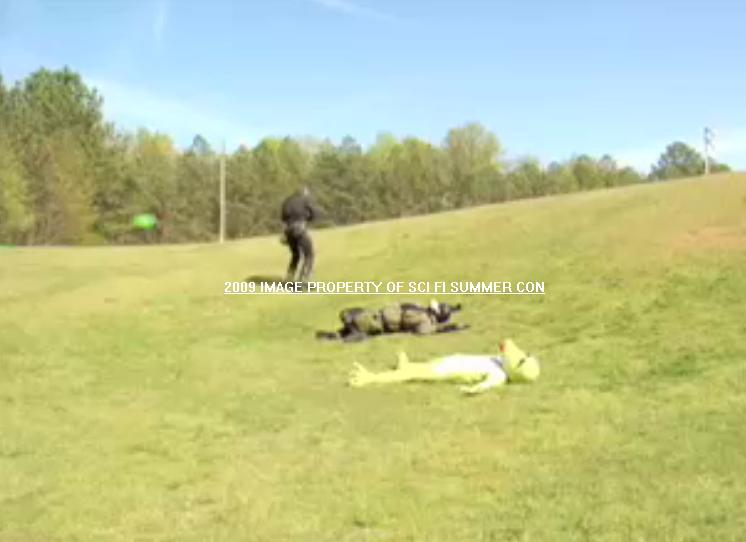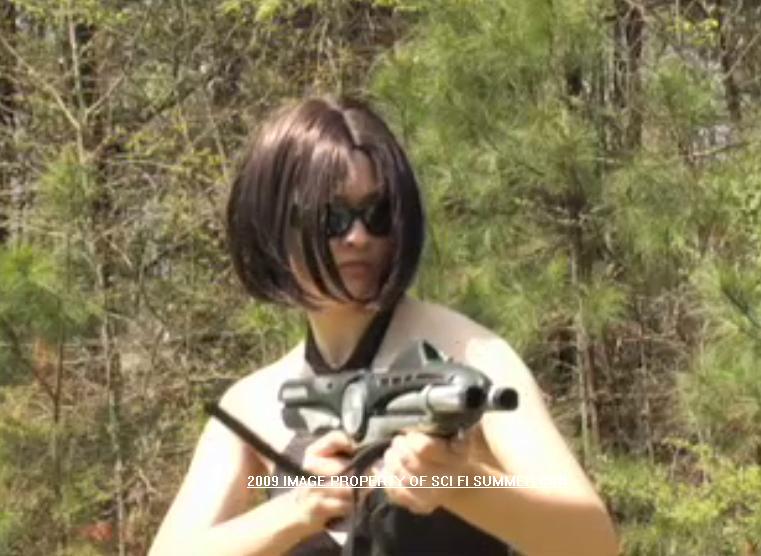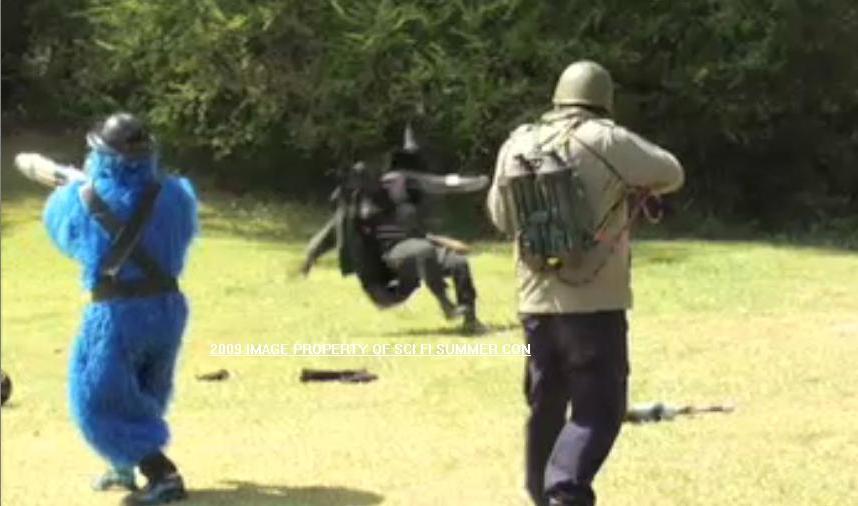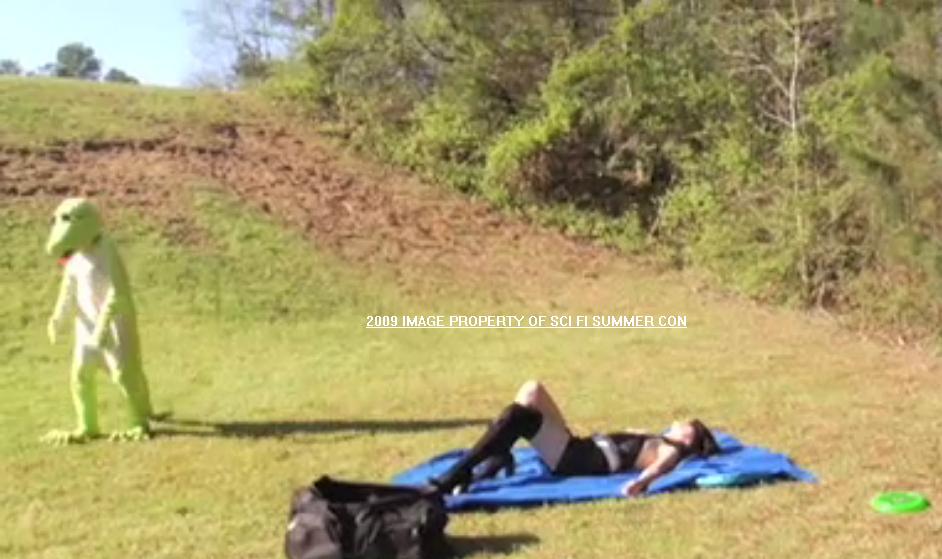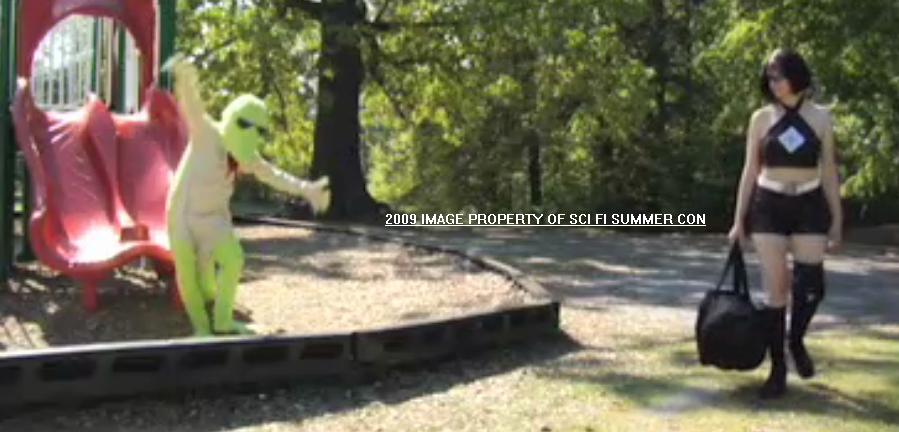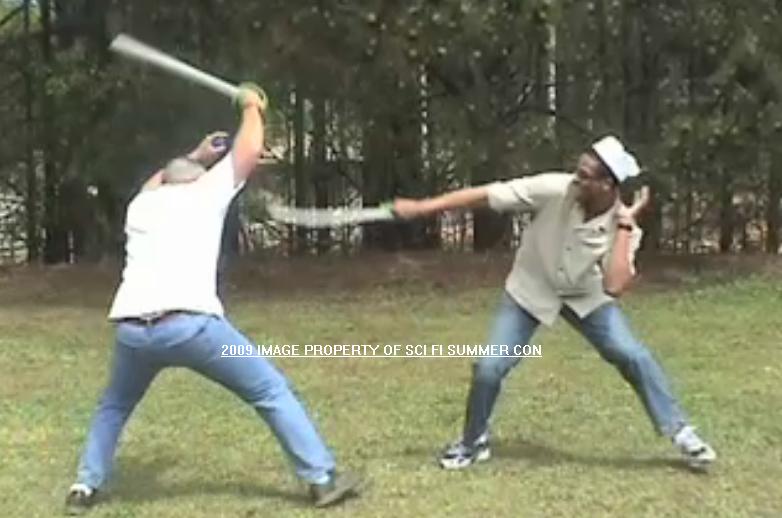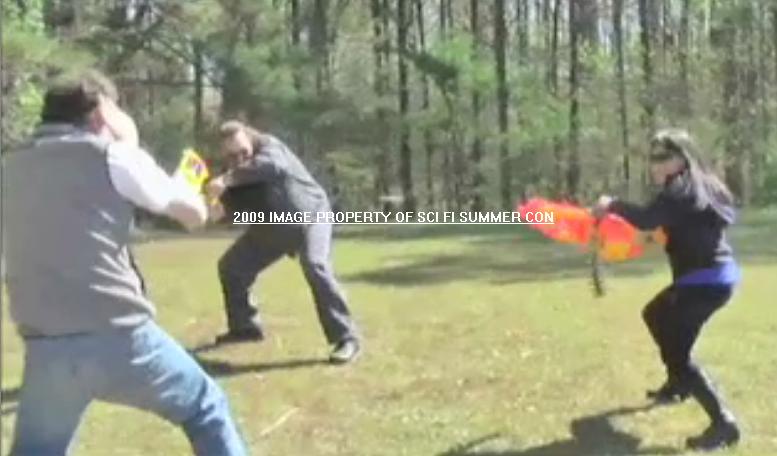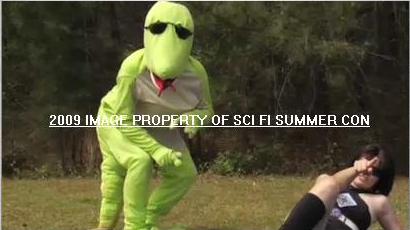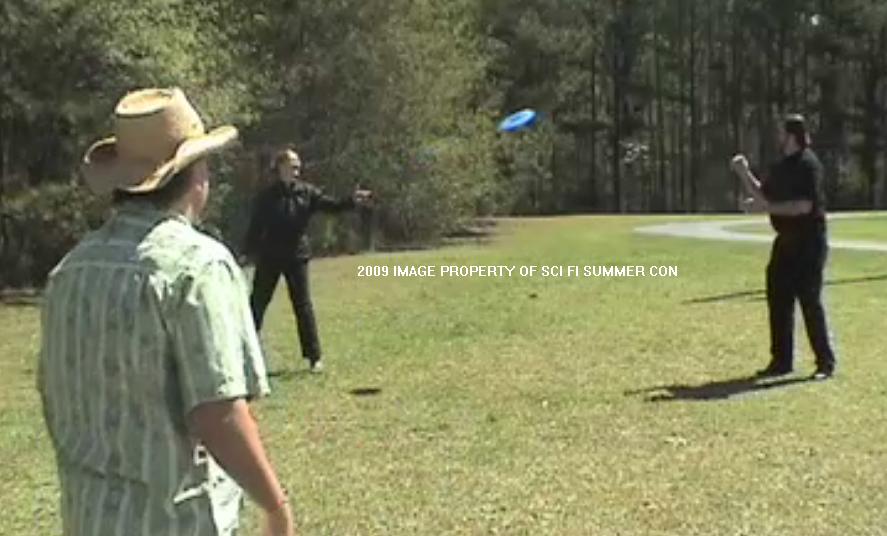 = RECENTLY ADDED =
Below is a production still of the the scene with the alien mercenary team just having landed in the park.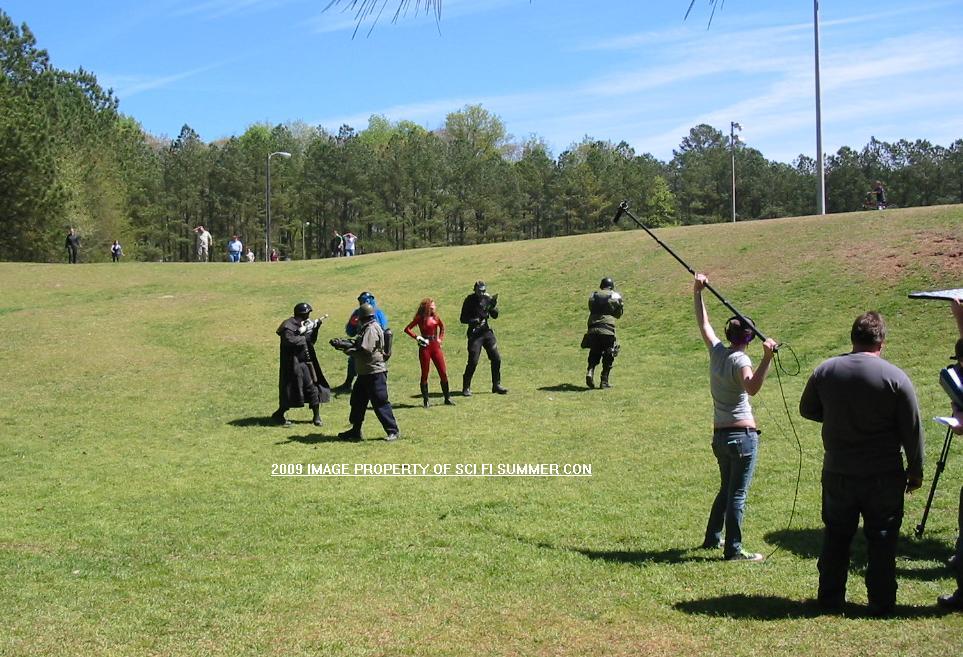 = RECENTLY ADDED =
Below is the first draft of the movie poster.



= UPDATE =
We screened the film at SFSC09, just prior to the dive-in movie. It was well received, and we had a lot of fun with it. Below are a couple of pics from the screening: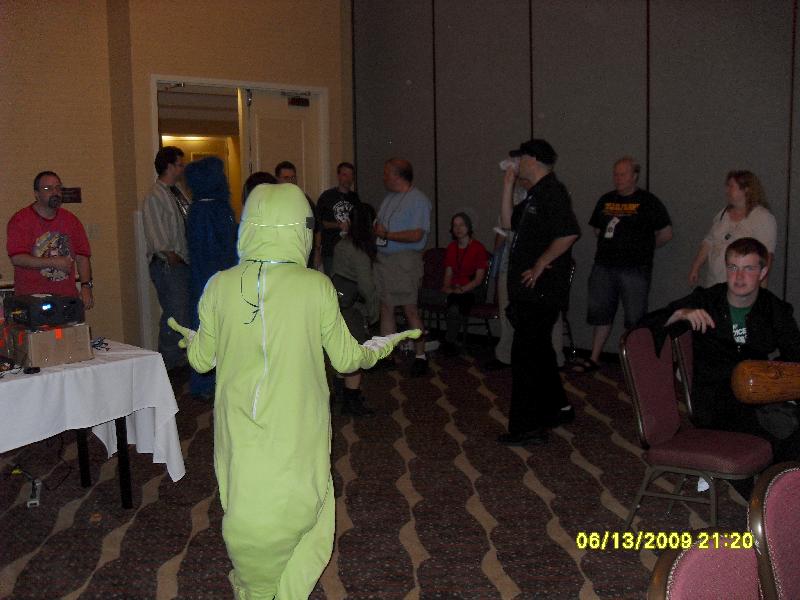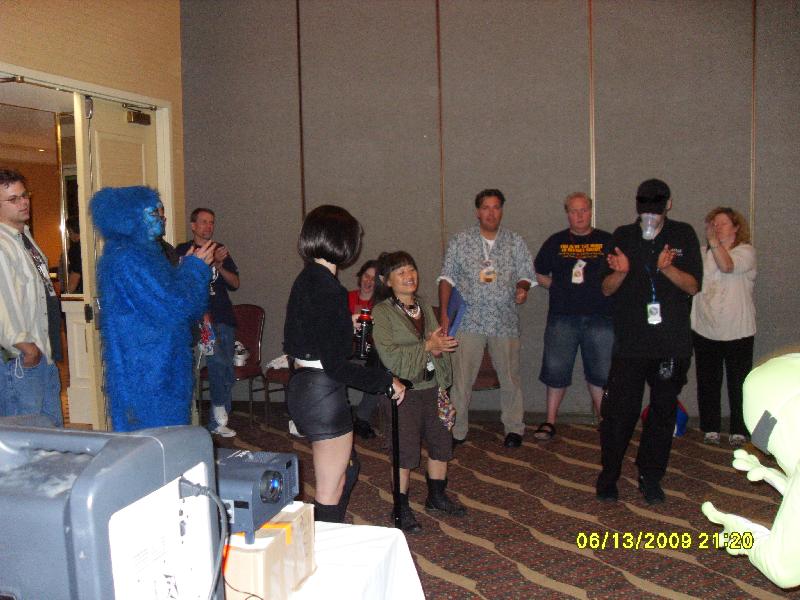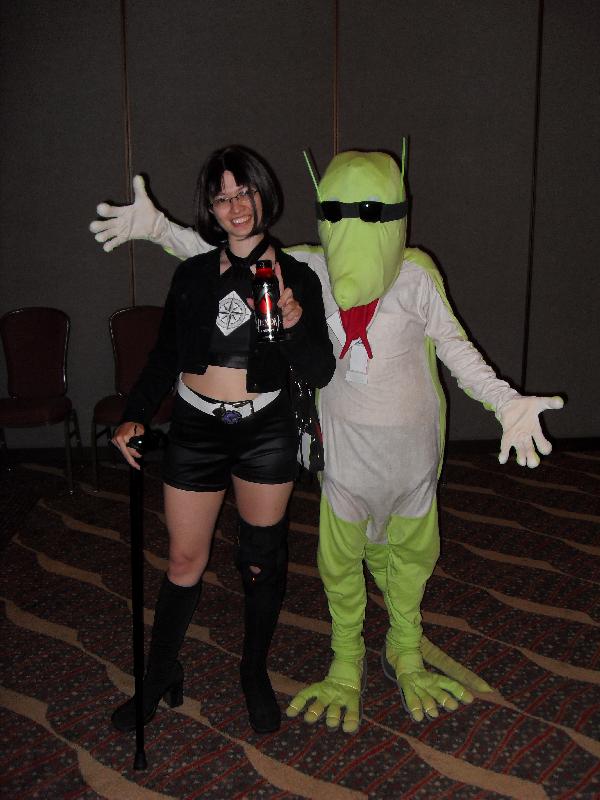 = UPDATE =
In Autumn of 2009, a sequel comic for SFS Girl was completed. The story was by Adrian Havens and Christian C. Jones, ink was by Christian C. Jones. It was mostly rendered in 3D modeling. Below are a couple of samples from the sequel comic: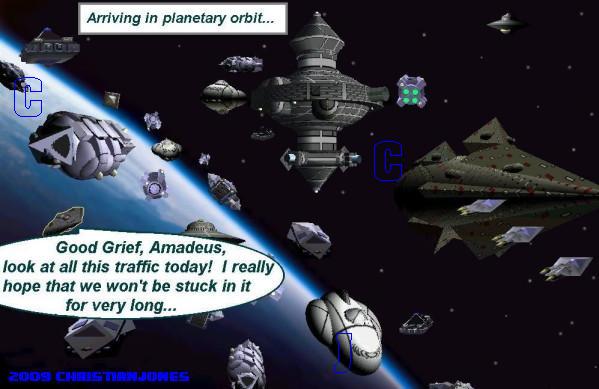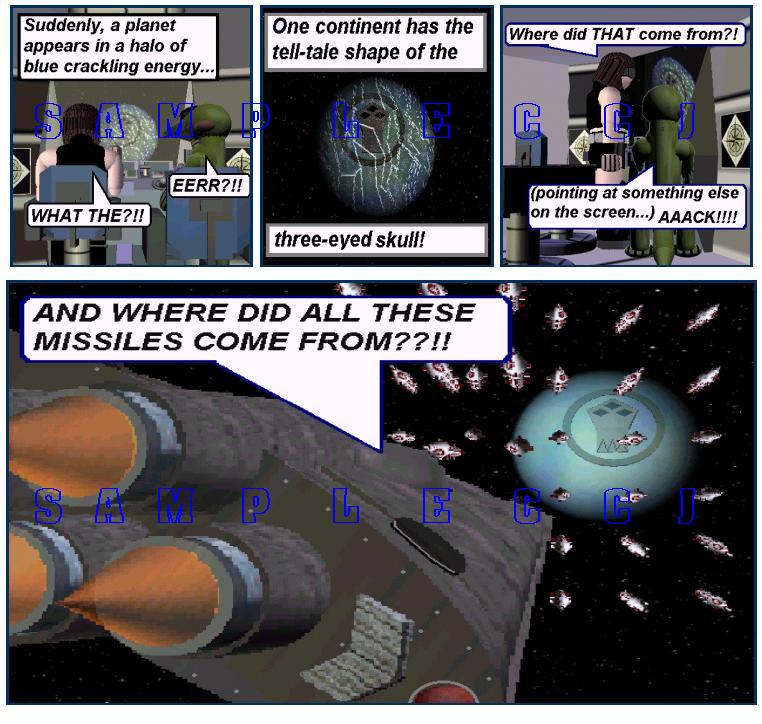 Discussions are in progress for making a sequel film.

= UPDATE =
The SFSG 1 movie has been submitted to some film festivals, so may appear in one or two festivals for 2010, such as Atlanta Film Festival. It now has a page on IMDB. A link to one of the online film festival entries is [ HERE ]

= UPDATE =
S.F.S.G.O.D. has a page on IMDB, as of January 2010. The link to it is [ HERE ]

= UPDATE =


The SFSG 1 movie deluxe dvd now has at least one review. Here is the link below. REVIEW AT macabremansion.com

Another review of SFSGOD is now online from the TinseltownReview, below:
REVIEW AT thetinseltownreview.com

Another review of SFSGOD is now online from Kat Hill, the Actionflickchick, below:
REVIEW AT actionflickchick.com

Still looking for one more review. If anyone out there knows an online reviewer that reviews indie films, please let us know...





The production on the sequel to SFSG 1 movie has already commenced! Here link to the first part, the Space Mercenary Corps informercial .

For questions about the movie, or getting a copy, please contact the con director below.

----------------

Bomber nose art!

Designs were made to make the images of Sci Fi Summer Girl and Amadeus the mutant anole lizard into bomber nose art. The idea is that the characters would have images that go on either side of the midsection of the sfsg space rocket ship. Below are sample images to view...
Basic designs to be made to art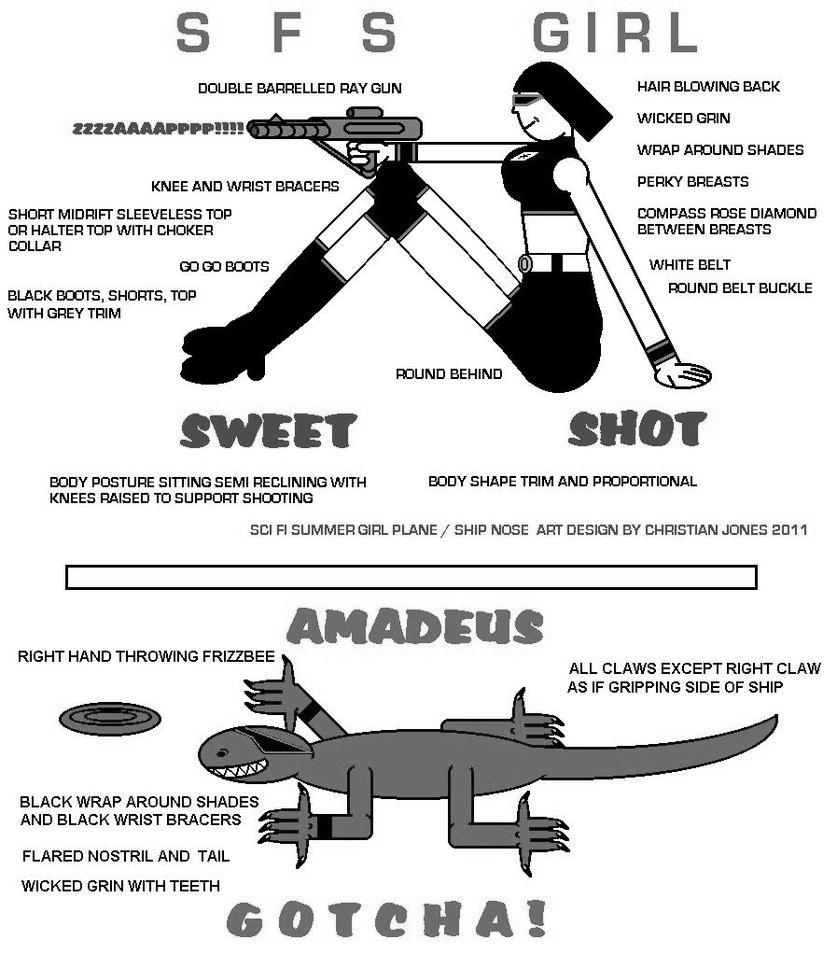 Cartoon characature style art version by Peter Cutler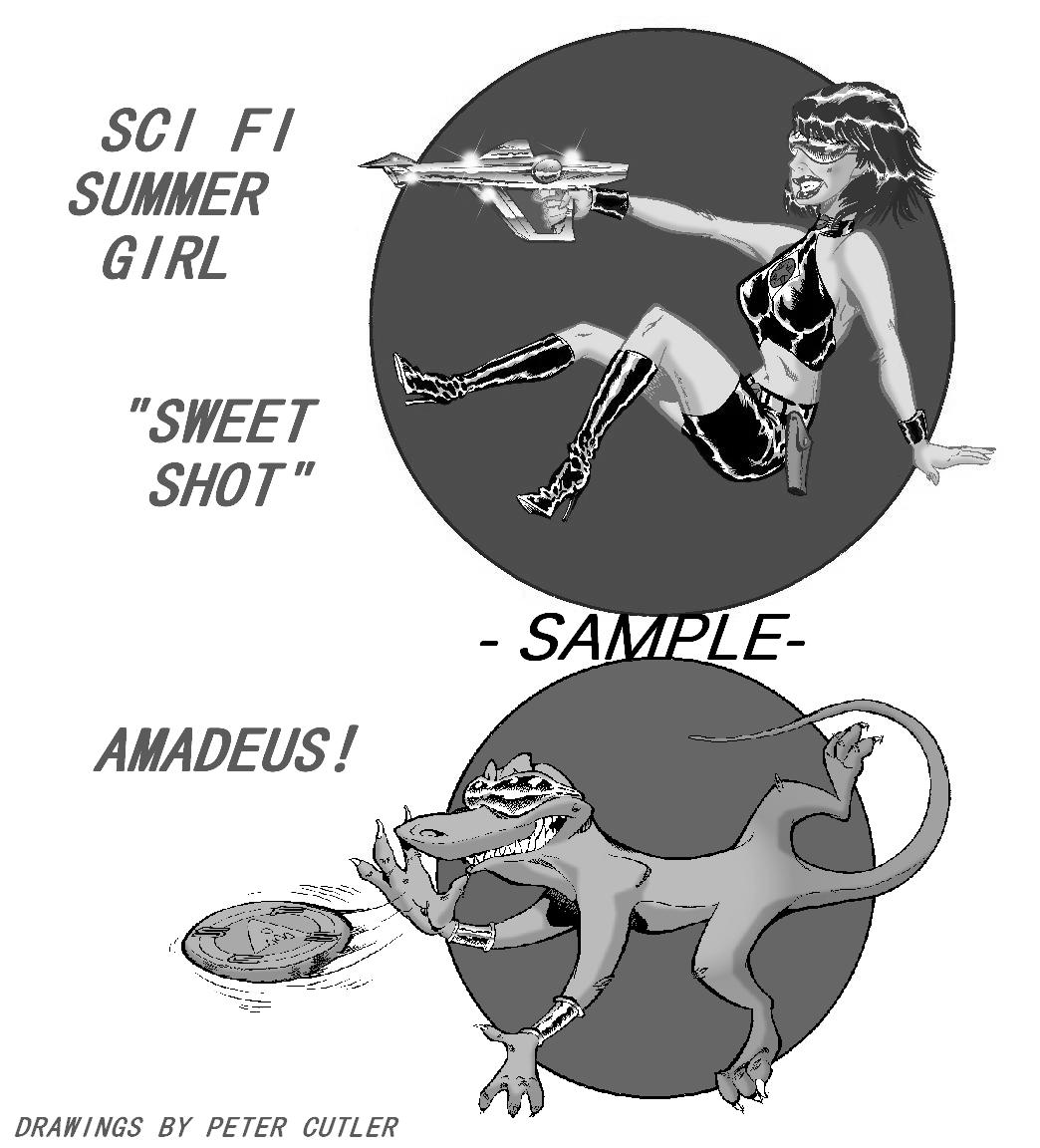 (c)2009 images and characters of 'SciFi Summer Girl's Off Day' are property of SciFi Summer Con and Chris Jones.
[<<<<<<<<<<<<<<<<<<<<<<<<<<<<<<<<<<<<<<<<<<<>>>>>>>>>>>>>>>>>>>>>>>>>>>>>>>>>>>>>>>]
HAVE QUESTION(S) ABOUT ANY OF THESE ITEMS?
CLICK THIS [LINK] AND ASK YOUR QUESTIONS!
---
This site owned and operated by Sci Fi Summer Con, LLC